I enjoyed the Lenovo Legion Go, right up to the moment I broke it
Laying hands on the Steam Deck rival, maybe too much
When the Lenovo Legion Go revealed itself, I was unconvinced by its portability credentials but enticed by the wireless mouse transmogrification of its detachable, Nintendo Switch-like controllers. A sparkling sliver of Swiss Army handheld design, providing a familiar taste of desktop play that the Steam Deck or Asus ROG Ally could never achieve without a USB dock.
Turns out, now that I've tried the Legion Go for myself, I was worried about the wrong thing. It's nowhere near as heavy or cumbersome as it looks, and while the breakaway controls remain an exciting prospect, they also risk introducing an acute pain point. At the very least, the model I tested proved highly vulnerable to lead-handed RPS hardware editors, because I left the building very much with the impression that I'd broken it.
Watch on YouTube
Okay okay, look, it's not like I powerslammed it through that attractively varnished desk . I merely disconnected the right controller (the one with the mouse sensor) mid-Rocket League match, causing it to lose connection, then repeatedly fail to reconnect, even after multiple restarts and extensive tinkering by a preternaturally patient PR overseer. Giving performance anxiety to a key component in possibly the only Legion Go in the UK could've happened to anyone.
Guilt, embarrassment, and the notion of retaliatory firebombings by enraged Lenovo engineers aside, this was an early sample I was handling. The retail version, releasing on October 31st, should have a few rough edges smoothed out, and will get a slightly nicer finish on the plastic too. Nonetheless, my doomed date with the Legion Go was a reminder that a games machine with three separately powered, wirelessly connected parts will effectively triple the chances of something going kaput. The Switch has a distinct Joy-Con reset process for a reason, and if the Legion Go is going to apply a similar setup to a portable Windows PC, it will need a similar safety net. Or, ideally, more stable connectivity.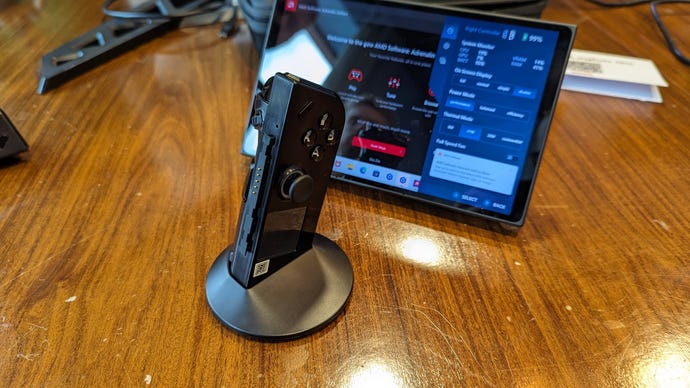 I sincerely hope it does, because the mouse thing is a very, very good idea. The right controller pops into a separate (but included) plate, forming something that initially feels like a miniature flight stick before settling into its true role as an upright mouse. It's been many years since I last used an upright grip (it's common on ergonomic office mice), but I was pleasantly surprised by how easy it was to get comfortable with. And, while my attempt to employ the mouse-controller hybrid in a game ended in disaster, by that point I'd already used it to flick through Windows 11 far more naturally than I ever could with the ROG Ally's thumbsticks. For Asus' crack at a Steam Deck alternative, that fiddliness was a cost of doing business, something you put up with in exchange for its wider PC game compatibility compared to the Steam Deck. The Legion Go also comes with Windows 11 as-is, but gives you a more appropriate tool to navigate it.
The potential benefit to mouse-minded strategy or FPS games is evident too, and since the Legion Go will launch with the same AMD Ryzen Z1 Extreme APU and even the same £699 price as the ROG Ally, it already looks like a case of more practicality for no more money.
The ROG Ally is much smaller and lighter – at 854g, the Legion Go is the weightiest of the Lenovo, Asus and Valve handheld PCs, and more than twice as heavy as a Switch. The 8.8in touchscreen also gives it more of a tablet feel than the 7in Ally and Deck, so no, it is not as portable by any hardnosed numerical metric.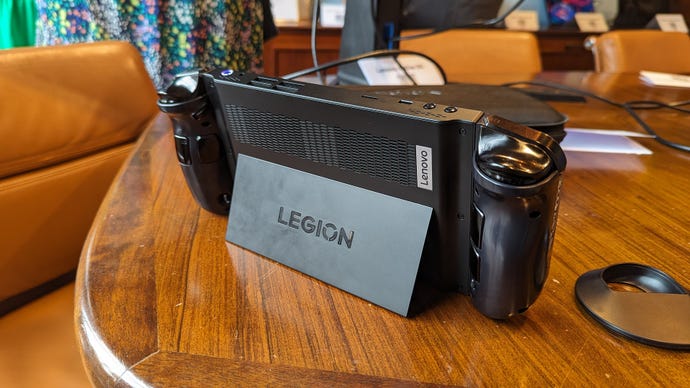 In my hands, though, 854g didn't actually feel like much. The Lenovo Go balances its weight well enough that one wrist doesn't wilt faster then the other, and unlike on the Switch, the controllers are sculpted to fit palms and fingers, creating a snug and comfortable grip whether they're attached to the main body or not. And although this central unit is on the thicker side, at least that makes room for an impressively quiet cooling system.
The display, however, still needs to demonstrate that it won't be too much of a good thing. We already know from the ROG Ally that the Ryzen Z1 Extreme isn't strong enough to run all modern games at 1080p, so asking the same chip to feed a 2560x1600, 144Hz screen sounds like a long shot. It'll be fine for older games and little indies, I'm sure, but I can easily see the standard practice to involve dropping the Legion Go down to 1920x1200 or a Deck-esque 1280x800. On 1200p, I played Rocket League on High settings at around 50fps, and I suspect I'd rather stick to that than risk iffy performance at 1600p.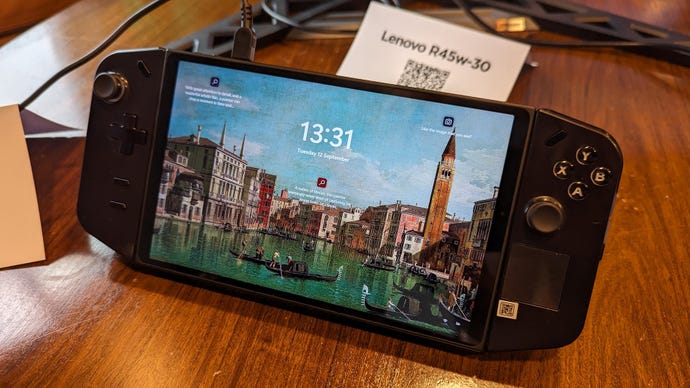 This was what the ROG Ally issue boiled down to: having to pay for high specs that you can't always use. But then, the Legion Go is on the verge of making a good offer otherwise. That mousey controller could be a literal game-changer, and between the four rear buttons and single trackpad (a very smooth one, I might add), it has a more PC-friendly array of inputs than the Ally in full handheld mode. And, although battery life doesn't sound amazing – I'm told between one and seven hours, depending on what games you play and on what settings – the Asus alternative could run dry with similar haste.
I'm still looking forward to the Legion Go, in other words. Despite the fact that I've already slain one.